How we all got here...
The earliest ancestors we can document in this line of Kellys is
John Greenberry Kelly and his wife Sarah Sylvesta Knowles. These two individuals were our Great, Great Grandparents.
We have not found parents for either of them and we have not found siblings. We have a good bit of information on Sarah after she arrived in Texas until she died in 1895, but not a lot of information for John Greenberry or Green B. Kelly. We have not determined where they came from, but the 1860 and 1880 census lead us to believe they came to Texas from somewhere in Alabama.
There were three children born to this couple:
Pearson Otto "Tobe"
Kelly (my Great Grandfather),
Margaret
Kelly and
John Green
Kelley. All three were born in Texas. We have not determined where, but all evidence points to South Texas as the place of birth.
We are looking in Live Oak County, Atascosa County and Karnes County, Texas at the present time.
You will find more information and stories about these five ancestors on the next pages.


Most of the pages of this site are under construction. Some of the links may not be working. Please use the navigation bar at the top of the page, if you encounter difficulty.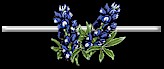 THE KELLY/KELLEY KONNECTION
(our related surnames)
The surnames listed below are allied with our early Kelly ancestors(1850-1950) .
Fryer-Friar

Carter

Karl

Adams

Crossen-Crosson

Morgan

Thomas

Whitten

Wilkins

Snow

Warren

Elder

Huffman

Stevens

Walker

Muse
I am currently researching the following surnames which are my immediate family: These families will have their own separate website and each one will link back to this Kelly/Kelley site.
Snow/Kelly/Kelley
Newsom/Godby
Ford/Williams
Moore/Porche
If you have information that connects any of the surnames in the two lists above, please contact us. We are always happy to share information with relatives and other researchers.